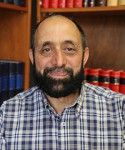 Mahamed Rajah is a part-time Senior Commissioner at the CCMA and serves on the CCMA collective bargaining panel.
He has worked for more than 30 years in the mediation and arbitration arena and has extensive experience in chairing disciplinary hearings and as a bargaining forum chairman, facilitator, mediator, arbitrator, trainer and relationship-building facilitator.
Mahamed was an Associate Professor at UNISA's Graduate School of Business Leadership. From 1980 to 2016 he lectured in labour law, negotiation and conflict management, industrial relations and dispute resolution. He was editor of the South African Journal of Labour Relations, published widely, contributed to books and edited several seminar proceedings.
Mahamed has been actively involved in training and capacity building over the years. He consulted for the International Labour Organization's project to train staff of the Department of Labour and was one of the trainers of the first batch of Commissioners when the CCMA started. He trains and assesses candidate Commissioners at Wits University and serves as assessor at Stellenbosch University. Mahamed was privileged to act as judge at the ICC international mediation competition for students.
Mahamed is a Centre for Effective Dispute Resolution (CEDR, UK) accredited commercial mediator, coach and assessor and was trained at the Advisory Conciliation and Arbitration Service (ACAS) in Britain. He is also a Mediation Training Institute international (MTI) certified consultant in workplace mediation.
Before joining UNISA, Mahamed was an employment consultant and an instructor at the Iranian Air Force Language Academy.